wheel repair fact
It's often cheaper to repair your wheels than replace them
Straighten & Refinish
Welding & Crack Repair
Powder Coat Repair
Curb Rash & Scratched Rims
Dents & Severe Bends
Chipped Finish
Atlanta Repair Shop located in Chamblee
Atlanta roads are hazardous and can cause significant damage to your wheels. We believe in repairing and remanufacturing wheels rather than replacing a perfectly good wheel. Here are some recent works that have required special attention and expertise from our technicians.
Before
After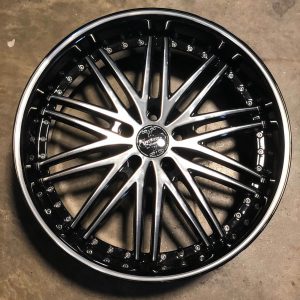 BEFORE
A customer came to us with the front bent on the wheel, causing vibrations and air leak.
AFTER
At Wheel Wizard Atlanta, we straightened the wheel back to the manufacturer specifications to eliminate the vibrations and stop the air leak. We then painted and powder coated the wheel to make it look new again. The final product was a wheel as good as new at a fraction of the cost, rather than having to buy a new wheel. This ensures saving money and a happy customer.
---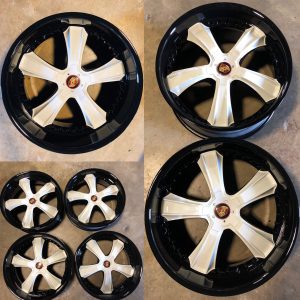 BEFORE
A customer brought us a set of black 3 piece wheels. The wheels had curb rash, were chipped, and the paint was peeling off.
AFTER
After we repaired the curb rash and the chipping, we then painted the wheels with two tones, consisting of a black outside and white inside to color-match the car. We then powder coated clear the wheels and matched the center caps.The final product is a set of stunning two-tone black and white 3 piece wheels.... and a happy customer.